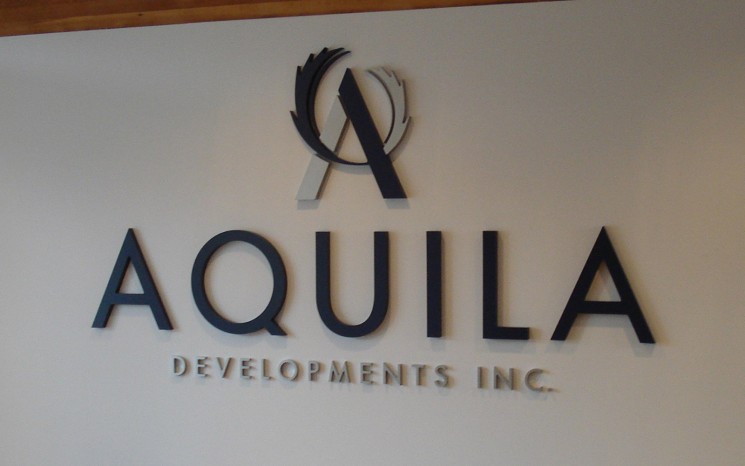 Reception and Lobby Signage
Look no further for striking reception and lobby signage
When it comes to designing, building, and installing distinctive lobby or reception signs for offices and businesses that meet your brand standards, Permel has years of experience and has completed hundreds of successful projects. We understand the importance of first impressions when visitors come to your business, and a striking custom reception sign, built to compliment your décor and to meet brand standards, will set you apart.
Read more

Acrylic letters painted with corporate colours (PMS colour match) and white vinyl lettering business sign for Radiant

Quarter inch satin brushed aluminum reception logo, pin mounted

Reverse printed graphics business sign for RSG Revenue Services Group

Brushed aluminum diebond (aluminum composite) with full colour vinyl graphics reception sign

Laser cut acrylic reception sign painted corporate colours

Brushed 1/4" aluminum pin mounted to wall with offsets business sign reception area sign

Pin mounted quarter inch aluminum, polished face and chrome plated 3D lettering business sign NewGen

Quarter inch satin brushed aluminum logo, pin mounted

Routered acrylic lettering painted corporate colour (PMS colour match) and pin mounted 3D lettering reception sign for Aquila Developments Inc

Laser cut white acrylic 3D lettering on vinyl faced foam board business sign

Brushed gold aluminum laminate on half inch black foam, routered with white vinyl detail on logo business sign Monarch Financial Group

3D lettering using 1" foam and painted corporate colours reception sign

Laser etched graphics on fir wood business sign Island Timber Frame

Pin mounted quarter inch brushed aluminum with satin clear coat reception sign NewGen

Quarter inch satin brushed aluminum reception sign, pin mounted

Ten millimeter glass with polished beveled edge, raised acrylic letters painted corporate colours (PMS colour match) mounted with one inch standoffs from wall 3D lettering business sign for Xpress Money

One quarter inch satin brushed aluminum letters with satin clearcoat and three quarter inch pinned offset

1/2" PVC letters with pin mount installation and offsets for 3D letter reception area sign

Quarter inch satin brushed aluminum reception sign

Pin mounted quarter inch aluminum logo and lettering, brushed face with satin clear coat 3D lettering business sign for Industrial Alliance

Routered half inch aluminum letters with polished face, chrome plated with mirror vinyl lettering Aluminum 3D lettering business sign Purple Spa & Yoga

10 mm glass panel with raised acrylic company logo installed with offset hardware and capsr eception sign

Half inch acrylic reception sign painted corporate red

3D lettering using three quarter inch acrylic, pin mounted reception sign
Acrylic letters painted with corporate colours (PMS colour match) and white vinyl lettering business sign for Radiant

Quarter inch satin brushed aluminum reception logo, pin mounted

Reverse printed graphics business sign for RSG Revenue Services Group

Brushed aluminum diebond (aluminum composite) with full colour vinyl graphics reception sign

Laser cut acrylic reception sign painted corporate colours

Brushed 1/4" aluminum pin mounted to wall with offsets business sign reception area sign

Pin mounted quarter inch aluminum, polished face and chrome plated 3D lettering business sign NewGen

Quarter inch satin brushed aluminum logo, pin mounted

Routered acrylic lettering painted corporate colour (PMS colour match) and pin mounted 3D lettering reception sign for Aquila Developments Inc

Laser cut white acrylic 3D lettering on vinyl faced foam board business sign

Brushed gold aluminum laminate on half inch black foam, routered with white vinyl detail on logo business sign Monarch Financial Group

3D lettering using 1" foam and painted corporate colours reception sign

Laser etched graphics on fir wood business sign Island Timber Frame

Pin mounted quarter inch brushed aluminum with satin clear coat reception sign NewGen

Quarter inch satin brushed aluminum reception sign, pin mounted

Ten millimeter glass with polished beveled edge, raised acrylic letters painted corporate colours (PMS colour match) mounted with one inch standoffs from wall 3D lettering business sign for Xpress Money

One quarter inch satin brushed aluminum letters with satin clearcoat and three quarter inch pinned offset

1/2" PVC letters with pin mount installation and offsets for 3D letter reception area sign

Quarter inch satin brushed aluminum reception sign

Pin mounted quarter inch aluminum logo and lettering, brushed face with satin clear coat 3D lettering business sign for Industrial Alliance

Routered half inch aluminum letters with polished face, chrome plated with mirror vinyl lettering Aluminum 3D lettering business sign Purple Spa & Yoga

10 mm glass panel with raised acrylic company logo installed with offset hardware and capsr eception sign

Half inch acrylic reception sign painted corporate red

3D lettering using three quarter inch acrylic, pin mounted reception sign
Who needs lobby and receptions signs?
You'll find our lobby signs everywhere, which probably means your business can use them! Here are a few of the types of businesses that use our signs:
Corporate offices
Dental surgeries
Retails stores
Banks and credit unions
Law firms
Doctor's offices
Hotels
Restaurants
Insurance agencies
Clinics and hospitals
Manufacturing plants
Property developments
Need a good reason to upgrade your lobby or reception signage?
If your reception or lobby feels and little dated, drab, or unexciting, here are a few reasons to consider giving it a facelift:

Your lobby or reception is the entry point for all visitors and is your opportunity to show off your brand in a dynamic setting
Having impactful reception and lobby signage is memorable and sets your business apart as professional and sophisticated
Visitors are often asked to wait in your reception area and this gives them the opportunity to spend time with your unique reception signage and learn about your brand and business
Many of your employees will enter and leave your building through your reception area and see your reception signage daily-what a great opportunity to communicate your brand messaging and visuals and instill a sense of pride for your team members.
Permel can meet all your reception signage needs
No matter what type of sign you need for your business reception or lobby area, we can help:

Signage that announces your business name, produced in the format of your company logo such as
3D lettering
reception signs.
Signs that provide direction for visitors, such as washroom signage, or room signage.
Mission, vision, and values signage
Plaques that promote your core company statements, such as mission, vision, values, brand promise, or value proposition.
Signs that boast achievements your company has attained.
Listings of key partnerships your company has forged.
Recognition of valued donors to your organization.
Visual signage to illustrate company values and stories, e.g., company timeline with benchmarks.
Customer announcements, e.g., have your identification ready, or take a number and wait to be called. Can be wall mounted or self standing.
Materials we use to create unique reception signs
Permel carries a broad inventory of standard and high quality materials we use to create outstanding reception and lobby signs. We like nothing more than to direct our creative energies into designing unique and unusual signage or finding economical ways to recreate (or copy) a sign you have admired.
Sign Lettering
Vinyl (to match all pantone shades)
Vinyl (to match all CMYK shades)
Cut letters using 1/8″ to 1″ thick:
Acrylic*
PVC (Sintra)*
Wood*
Foamcore*
Foamcore with brushed metal laminate faces (silver and gold-brushed or polished)**
Cut letters using solid metal 1/8″ to 1/2″ thick:
Stainless steel
Aluminum
Brass (brushed or polished)
* Can match letter colouring to company brand CMYK colours.
** Can paint sides of lettering with black, gold, silver, brass, or any other colour.
Mounting Materials
Permanent drywall
Brick
Concrete
Glass
Wood
Acrylic
Metal (aluminum, brass, stainless steel-brushed or polished)
Foamcore
PVC (Sintra)
Mounting Styles
Flush
Offset pin mounting by ¼", ½", ¾", or 1″
Sophisticated equipment to create
quality reception and lobby signage
Permel has the most comprehensive range of state-of-the-art technology on its shop floor in the area, including:

Thermal Printing
Vinyl & Paper Plotting
Wide Format Digital Printing
Custom reception signage built to last
Having access to leading edge technology allows us to leverage on a variety of methodologies and materials to create highly sophisticated reception signage economically. We use rotary engraving, laser engraving/laser etching and cutting, routering, as well as traditional ink printing and UV printing. Our high standards mean we produce quality reception signage you can expect to last. You'll be amazed at the creativity and innovation we can employ to create custom reception signage.
Above and beyond service
We're a close-knit team, focused on service and craftsmanship. We use only quality materials and leading edge, precision technology to design and create unique reception signage. One of our most unique strengths is our concern about serving you, our clients. We take care of all the details, and that includes making sure you are 100% satisfied.
Frequently asked questions
Q How do I get a quote for a custom reception sign?
A That's easy. Just
contact
us, and we'll get back to you with our quotation right away.
Q Can you come to my business to measure and provide an estimate?
A It is more economical for you to take a photograph of your space and provide measurements for us and we can work from that. We can visit your facility, but there is an additional charge for this service.
Q How long will it take to design, build, and get our new reception sign completed?
A This varies depending on the complexity of your sign. As a rule of thumb, it usually takes two weeks for this process. Other less complex signs can be produced more quickly.
Q Can you match our corporate colours?
A Yes, whether your corporate colours are pantone or CMYK, we can match the colours perfectly on most substrates.
Q What kind of artwork do you need from us?
A We can work with most artwork formats, but for the highest quality signage we ask for vector-based artwork.
Q If I have a basic design, can you make changes to it?
A Yes, we can make small changes to your design before producing. We will need you to approve the changes we make, before we go to production.
Q Can you design my reception or lobby signage?
A Yes, we can work with you on the design. Our experienced in-house team is happy to work with you on the layout, and we work with a number of very capable creative designers. The cost for creative design will be added to our estimate, and must be approved by you before we begin the work.
Q Do we get a proof before you go to production?
A Yes, we prepare a proof in pdf that we will end to you. This proof shows all the specifications, including with dimension and all the details of how the sign will be constructed. We request approval for green light to build.
Check out our reception signage ideas gallery
We've designed and created hundreds of custom reception signs for companies across Canada. Check out our gallery of signs for ideas and inspiration for your new reception sign.
Contact us today and let us create reception and lobby signage for you.